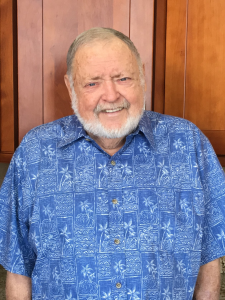 James Doran Jr. founded Ceramic Tile Plus (CTP) and Exclusively Yours Design (EY Design) in 1977 and his family owned business has served the Maui community for over 40 years. The company features the largest selection of natural stone, porcelain and decorative tile and the largest collection of raw stone and quartz slab materials on the island. While Mr. James Doran Jr. passed away in June 2017 and the business continues to be family owned and operated and is now lead by his eldest son, James Doran III.
Mr. James Doran Jr. dedicated his 60 year career to building and growing his business, ensuring his clients are served with the highest level of care and that his employees are well compensated and have the tools and skills they need to meet the needs of their diverse client base. As all small business people know, this took a great deal of sacrifice, dedication and vision. Mr. Doran created a small business that has grown and prospered in the face of adversity and changing economic climates. None of this was easy but it is the success that the business enjoys and the satisfaction of his clients that are the measure of his life's work.
Mr. Doran successfully grew the business, starting with 2 employees to its current 38 employees. Throughout Mr. Doran's career, he consistently valued his employees calling them "his most valuable resource" and treated both his employees and customers as members of his extended family.
In 2008, seeing an opportunity to bring all operations under one roof, Mr. Doran purchased the Cutter Car Dealership property across from the Queen Kaahumanu Center. The CTP facility consists of a total of 40,000 sq. ft. under one roof, with 10,000 sq. ft. of showroom, 20,000 sq. ft. of warehouse, and 10,000 sq. ft. for fabrication.
JRDoran Inc (Ceramic Tile Plus and EY Design) curently employs 38 employees consisting of 18 fabricators and installers, 10 sales and design staff, 6 warehouse and cabinet assemblers and 4 administrative employees. [During the most recent economic recession, Mr. Doran decided to reduce his employees work hours rather than lay them off and would often times go months without taking a paycheck just so that he could ensure that his employees and their families were provided for.] It is this deep level of kokua and respect for its employees and their families that has allowed CTP and EY to be so successful over the last 40 years.
Over the past 4 decades, Mr. Doran reinvented his approach to doing business in response to opportunities that presented themselves. This forward thinking attitude was evident from the beginning when Mr. Doran first decided to move his family from Massachusetts to Maui to start the business after he saw the growing construction business here in the late 1970's and realized that there was significant business opportunity. During these years, he has hired and trained many Maui residents in the flooring trade to help support the growing business. In subsequent years, he added a granite slab inventory and fabrication team when natural stone countertops started to become popular. He was also the first business in Hawaii to bring in the prefabricated granite countertops that are now a mainstay of thousands of home remodeling projects island wide. Most recently, he added an In Stock Cabinet line to his offerings. That proved to be very popular and these sales helped with the bottom line greatly. He had sold cabinets decades earlier so knew the industry but it was a major gamble to bring in hundreds of thousands of dollars of new inventory with the hope it will sell during the worst economy in decades. As a part of his strategy, he gambled that while there wasn't any new construction happening at the time – remodeling projects needed an affordable, good quality cabinet line that was readily accessible here on Maui. He was right – and it continues to be a successful and growing part of the company's sales. Under the guidance of Mr. Doran for the last 40 years, CTP and EY Design has grown into one of the largest, oldest and most respected small businesses on the island of Maui.
One of the core values of CTP is supporting the Maui community. The business has consistently given back to numerous youth programs, fund raisers, and non-profits organizations such as Habitat for Humanity, Maui Food Bank, and Ka Lima O Maui just to name a few. He also reserves the store parking lot every Saturday to allow youth groups and other not for profit organizations to use the parking lot for car wash fundraising activities. Typically, businesses that allow groups to use their parking lot for carwash fundraiser will charge for the use of the property and/or the water being used. TheDoran family donates the use of the property and cost of the water. It was a simple concept according to the Dorans, "it is all about giving back."
James R. Doran Jr, 79 Obituary
James R. Doran Jr, 79 of Kihei passed away June 16, 2017. He was born in North Adams, MA on March 10, 1938.
James was predeceased by his mother, Laura Rinaldi Doran Carmel; father, James R. Doran Sr; first wife, Ellen Mae Rohane Doran Root; and his second wife, Leslie Moreau Doran. He is survived by his brother, Richard Doran of Maui; sisters, Sandra Morrissey of North Adams, MA, Mary Ann Lummus of Dalton, MA; children, James R. Doran III of Maui, Ellie Doran Kidd of Maui, Kathleen Wyner of Maui, Susan Doran Spence of Groton, MA, Kurt Doran of Henderson, NV, Shannyn Doran of Maui; daughters in law, Georgia Doran and Kristine Doran; sons in law, Ed Wyner, Scott Spence, Steven Kidd; grandchildren, James Doran IV of Columbia, SC, Madison Kidd of Maui, Courtney Spence of Groton, MA, Samuel Wyner of Maui and Chase Doran of Henderson, NV.
James was the owner of Ceramic Tile Plus and Exclusively Yours Design in Kahului and previously owned Doran Carpet, the Leprechaun Restaurant and Doran's Bar in North Adams, MA.
Mr. Doran was awarded the 2017 Lifetime Achievement Award from the Mayor's Office of Economic Development for Maui County and Hawaii Business Magazine's 2017 Successful Long Term Business Leader Awards. His business also recently received the Hawaii Business Magazine's 2017 Best Places to Work in Hawaii Recognition.