In Stock Kitchen and Bath Cabinets in Kahului, HI
We have a high quality line of In-Stock Kitchen and Bath Cabinets. The door style is a Shaker Style. Our Upgraded Hardware is Full Extension and Self / Soft Closing. The cabinets are frameless with hardwood doors, fronts and frames with 3/4″ Plywood boxes. All of our end panels are finished (no need for additional end panels). Our drawers have dove-tail construction. Our hinges are 6 way adjustable. The interiors are stained to match the exteriors. Exclusive Dealer of Adornus Brand Cabinetry 3 Colors to Choose From: Toscana Shaker door style Alder Wood with Warm Cherry Finish Bamboo Shaker door style with Carmel Finish Hampton White Paint Alder Wood With White Paint Finish
In Stock Cabinetry Construction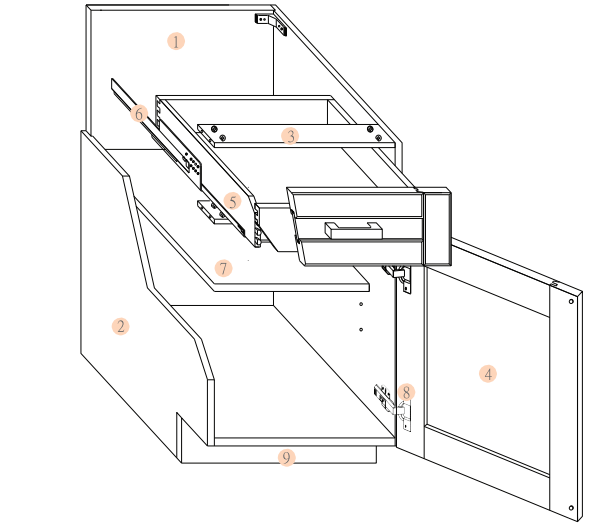 5/8" finished inside plywood with a ½" x 2 ½" framing. Set into side panels with dado cut and secured with screws and metal L brackets to the side panels.
¾" Side and bottom, top (for wall cabinets) plywood edge banding for exposed sides.
¾" bridges to add strength to the cabinets, connected to the side panels with dowels and cams.
¾" true 5-piece construction solid wood doors. Reversed raised solid wood panel for all shaker doors.
Clear finished 5/8" solid wood and dove tail connected drawer sides with ¼" plywood drawer bottom set into dado cut channels.
Undermounted, soft closing slides.
15" deep ¾" plywood adjustable shelf, with edge banding front and back.
6 way adjustable soft closing hinges.
¾" toe kick with edge banding both sides that comes with every base cabinet.
DOORS
We ue select grade North American grown Alder for our Toscana and White painted doors. Alder is attractive and durable and shows a very uniform and beautiful pattern of grain. All the batches of raw materials carry the forest stewardship council mark. Alders is widely used and popular in the cabinetry industry for making doors. Alder is a light red to brownish wood from a deciduous tree in the birch family. The grains of this wood are fine and tight and it is easily sanded and finished. Alder is an environmentally friendly cabinet wood because it is renewable and fast growing. It grows throughout North and South America from the Rockies to the Andes down to Chile. It has a grain similar to Cherry. It is stable and resists splitting of screws.
CARCASSES
Carcasses are made of CARB Phase II certified plywood with wood veneer. There is no formaldehyde added in the process of making our plywood. The carcasses are ¾" plywood on sides, bottom and top (wall cabinets) and reinfiorced with framed backing.Our boxes are constructed with dowels, cams and screws. Our cabinet boxes are the steadiest boxes you will find in the market.
FINISH
The stained wood doors in the Toscana Series are a multi-step finish with a two-part catalyzed conversion varnish. We use formaldehyde free, high performance finish conversion varnish that is hard, heat resistant, chemical resistant, and has exceptional non-yellowing characteristics. Conversion varnish is more durable and has a higher elasticity which allows it to hold up better through wood joint expansion as compared to traditionall;aquuer. The carcasses are finished UV laquer, which is durable, environmentally friendly and free from formaldehyde and hazardous substances. This laquer is not only kind to the environmant but also to the environment at our production facilities. UV lacquer hardens when exposed to ultraviolet light. This makes the lacquer completely harmless and gives an attractive and robust finishthat can tolerate even the roughest treatment.
DRAWER BOX
The drawer box is constructed of soli wood with a clear finish and are connected with tight dovetail joints.
SHELVING
One full length of adjustable shelf comes with every 30" tall wall cabinets. Two shelves come with 36" tall cabinets and three come with a 42" tall cabinets. Half length adjustableshelving comes with every base cabinet. Shelves are made of ¾" plywood and finished front and back.
TOE KICK
Every base cabinet comes with a ¾" toe kick that is finished at both ends. 96" x 4 ½" x 5 MM toe kicks are available as well.Soft closing adjustable hinges are not available for special cabinets such as lazy susans, spice cabinets and diagnla corner cabinets.
SLIDES
Undermounted, full extension, soft closing slides are installed in all of our in stock cabinets.
HINGES
6-way adjustable, concealed, 110 degree soft closing hinges are used in all cabinets expect cabinets such a lazy susans and diagonal corner cabinets.
Sizes Available